There's lots of fun to be had on the farm this Easter
Bath City Farm is one of our favourite spots locally and they have a whole host of events on this Easter to entertain the whole family.
There's the Easter Egg Hunt on April 9th which can be booked via Eventbrite.
Join us in this time-honoured custom to kick-start an epic Easter Egg Hunt across the green and pleasant Bath City Farm. There will be live folk music, there will be merriment, there will be strange accents and hats full of feathers. Local school children will be turning out to keep things swinging whilst the farmyard animals line up for your attention. Goat-feeding! Pig-ogling! Chicken-stroking! All included in the price of your FREE ticket.

Bath City Farm
Those aged 11-16 can come along and make pizza and cook it in the Bath City Farm pizza oven.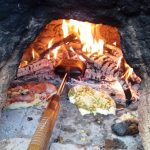 And those between 11 – 18 can also get involved with building their youth shelter. If you're in the age range and and live in Whiteway, Twerton or Southdown you can get involved in this project over the holidays. For any questions or to book email mo@bathcityfarm.org.uk
Find out more at Bath City Farm's website which has all the details of what the farm has to offer and what's on over Easter.