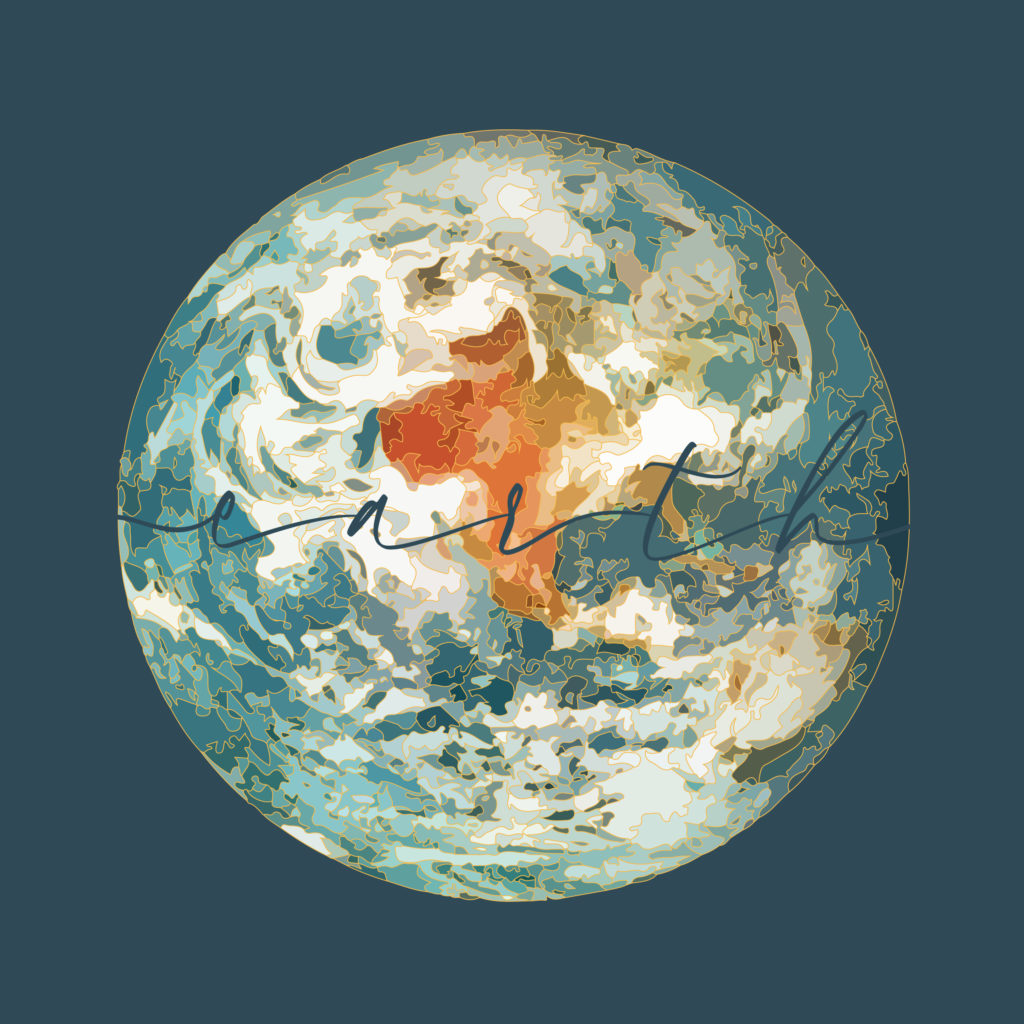 Radio Bath brings you a series of programmes focussing on environmental issues
The Earth Matters Team deliver thought provoking conversation on everything from sustainability, the climate crisis, to cleaning up our oceans, local nature and much more.

The show broadcasts at 22:00 on Thursday evenings with new content added every month. Below is a listen again link to previous shows alongside detail of what was covered.
We hope you enjoy the shows and if you have ideas for the team or questions on any items covered please don't hesitate to get in touch at earthmatters@radiobath.com
Jo, Gracie and Nick - The Earth Matters Team
September 2023 -
In today's show Jo and Nick are delighted to welcome Gracie Allen to the Team. Gracie grew up in Bath and has just finished her A Levels. Like many young people her age she has a keen interest in how the world is responding to climate change and is keen to bring the perspective of young people to the show. In today's programme she speaks with Pim Sullivan-Tailyour, a climate justice activist from Bath.
Nick is on the Isle of Skye on the West coast of Scotland and visit Rubha Phoil (https://rubhaphoil.org/), a regenerative culture community where he speaks to the current custodian about life on the island and the origins and vision of the community. Jo returns to Bath Abbey where she interviews the Revd Stephen Girling about the Gaia (wonderful earth) Festival taking place in around the Abbey (https://www.bathabbey.org/gaia/)
August 2023 -
In today's show Jo reflects on her recent visit to Braunschweig in Germany, a twin city with Bath since 1951. Jo also speaks with Sally Cook from Bath Natural Burial Meadow about the services they offer.
Nick spends a lovely morning at Bath City Farm speaking to Alison Howell about all the great work the farm does. Jo and Nick are also delighted to welcome Gracie Allen to the Earth Matters Team. Gracie talks about the work she's doing with Avon Schools Eco Network to highlight the voices of young people in response to the climate and ecological emergency.
July 2023 -

In today's show we speak to Professor David Coley from Bath University about his ground breaking research into the impact global warming will have on our weather. Dan Thompson, Co-Founder and Director of the Running Out Of Time relay talks about the exciting journey from Ben Nevis to Big Ben.
James Levelle, filmmaker, talks about his recently released film Race for Future that amplifies the voices of young people with their concerns for the future of our planet. The show concludes with an interview of Rosie Anderson, a dendrologist from Westonbirt Arboretum, about her important role protecting our varied tree life.
June 2023 -

In today's show we hear from Steve Melia aka The Green Travel Writer who talks about sustainable travel and how you can still experience the thrill and awe of travel without damaging our planet
Oliver Langdon and Caroline Garland from Kilter Theatre Company talk to the show about the origins and work of the company.
Nick talks to Sam Ross and Saskia Heijltjes 2 recently elected Green Councillors from Bath and North East Somerset Council. They share their priorities for the next 4 years and how they hope to positively influence the local community
May 2023 -
In today's show we hear from Peter Capener, Managing Director of Bath and West Community Energy about the amazing work they do to bring affordable, sustainable energy to the area.
There's also coverage from the recent collaborative climate change event held in London called the Big One which brought together lots of groups with a shared interest in preventing climate breakdown and building sustainable futures. The Bath area was well represented as you'll hear.

We also talk to two local artists, Clare Day and Alison Harper about the inspirational work they do
April 2023 - EM Show 19 (April 2023) listen again link
In this show we hear from Professor Loraine Whitmarsh MBE of Bath University about the recent and important United Nations report on Climate Change (UN IPCC Report). John Godman talks about the Frome International Climate Film Festival taking place in Frome on 13th May (Festival link)
Ben Aldiss provides exciting insights into the lives and worlds of amphibians at this time of year and Jo speaks to Wil Hardwick from the No15 Hotel in Bath about their efforts to be a sustainable and climate neutral business
March 23 - EM Show 18 (March 23) listen again link
In this show Ben returns with a wonderful spring reminder of the amazing daffodil
Jo talks to Bevis Watts, Bath resident, passionate conservationist, CEO of Triodos Bank and author of River Journey, a book about searching for wild beavers on the River Avon. Jo also gets an update on the progress of the Bath and North East Somerset Climate Hub from Sue Poole and Mandy Lake. This is a great opportunity to celebrate the recent award of charitable status to the project.
Nick catches up with Richard Baxter from the Bristol Airport Action Network (BAAN web link) about the result of the recent appeal against the outcome of the planning inquiry into an application to expand the airport. They also talk about next steps for the Network in continuing to campaign against expansion.
Feb 23 - EM Show 17 (Feb 23) listen again link
In this program the team return to the topic of future proofing buildings given the recent huge rise in the cost of power. Jo talks to Alex Sherman of the Bath Preservation Trust and local architect Tobias Lemberg who provide expert insight with local focus on the buildings of Bath and the surrounding area.
Meanwhile Nick talks with Rob Stephens of Avon Wildlife Trust whose 17,000 members and over 650 volunteers do great work in preserving and creating vital natural habitats in and around Bath
Jan 23 - EM Show 16 (Jan 23) listen again link
Jo and Nick see in 2023 with a conversation about the books that have influenced their lives, with a particular focus on the environment and sustainable living

Dec 22 - EM Show 15 (Dec 22) listen again link
In this program Ben shares insights into the strategies employed by the natural to cope with the challenges of winter. This is Ben's last show as a co-host and everyone at Radio Bath thanks him for his invaluable contribution, he will be missed.
Jo speaks to Suzi Bancroft, a local artist who uses the resources of the natural world around us all to develop her art. This includes produce to dye fabric and also the sounds of the natural, such as bird song, to frame her work.
Nick talks with Zac Gratton from Loop Frome about their project to create a local circular economy using food waste produced across their town. Zac provides a model that could easily be developed in other communities.
Nov 22 - EM Show 14 (Nov 22) listen again link
In this program Nick talks to Mike Lewis, Professor of Operations and Supply Management at Bath University, about the appeal being heard in Bristol against the expansion of Bristol Airport. He also interview Lois Player from the Centre for Climate and Social Transformation (CAST web link) in Bath about their recent world leading research into the prevalence and impact of climate linked anxiety
Jo speaks to Wil Duckworth and Andrew Richman from the Sustrans walking, wheeling and cycling charity about the great work volunteers do to maintain and improve cycle routes around Bath. Jo also caught up with Dave Searby from Extinction Rebellion Bath (Extinction Rebellion web link) as part of a recent march in the City linked to COP 27
Oct 22 - EM Show 13 (Oct 22) listen again link
In this episode Ben provides illuminating commentary on galls and rhizomes. Galls are a reaction by a plant to a parasite whilst rhizomes are a horizontal underground stem specific to a small range of plants.
Nick shares an interview with Jonathan, the manager of Avonleigh Organic Orchard, about his plans to move from conventional organic farming toward a permaculture food production model.
Jo has a busy time firstly speaking to Karen, a Bath hairdresser, about her environmentally conscious approach to her profession. She also re-visits the Roots Allotments project with William and Ed to get an update on progress. Finally Jo speaks with Charlotte and Rowen about the Parents for Future campaign
Sept 22 - EM Show 12 (Sept 22) listen again link
On todays program Ben shares his passion for the British hedgerow describing the role they play as the arteries for wildlife across our countryside.
Nick chats with Councillor Sarah Warren (B&NES Council Cabinet Member for the Climate Emergency) about the Climate and Biodiversity Festival taking place across Bath and North East Somerset throughout September.
Nick also interviews Fousseney Traore, a climate activist from Mali, West Africa. Fousseney is seeking asylum in the UK with the support of a group of Bath residents.
Jo goes on the road to Bath Abbey and speaks to Nathan Ward about the Footprint Project. As part of the project the heating system of the Abbey is being updated to take advantage of warm spring waters to reduce the reliance on fossil fuels.
Aug 22 - EM Show 11 (Aug 22) listen again link
In our latest episode Jo chats with Dave Andrews of the Claverton Energy Group about his work, over many years, to influence decisions on energy provision given the climate emergency. She also talks to Matt, a local representative of Extinction Rebellion, about that organisations plans for action in September.
Ben gives us insight into the magical world of caterpillars whilst Nick speaks to Maurice Avent, past Chair of the Butterfly Conservation Society. Maurice is the custodian of a site of special scientific interest near Castle Combe that he manages in a way that encourages a wide diversity of butterflies and moths to call it their home.
July 22 - EM Show 10 (July 22) listen again link
In our latest episode Ben's nature items are about orchids and eels.
Jo speaks to Helmet van Emden (Emeritus Prof of Horticulture at Reading Uni) about his work on insect-plant interactions.
Nick speaks to Sue Poole (Secretary of the Bath and NE Somerset Climate Emergency Hub) about the outreach work going on in Bath to encourage the community to learn more about the climate emergency.
June 22 - EM Show 9 (June 22) listen again link
In our latest episode you can hear part 2 of Ben's interview with Dave Waters from the Great Bustard Group. They talk about the efforts being made to ensure local habitat is maintained so that Great Bustards can thrive in the South West.
Jo chats with Dr Kate Petty from Bath Spa University about the No Mow May Campaign. This national event is about encouraging us all to allow our lawns, verges and other grassy areas to grow and host wild flowers and insects throughout May.
Nick talks to Mike Andrews of the Cold Homes Energy Efficiency Survey Experts (CHEESE) Group about the services they offer to local households.
Ben also delivers an item on spiders giving us an insight into to this diverse arachnid group
May 22 - EM Show 8 (May 22) listen again link
In the latest show Jo talks to Ed and William about their innovative Roots Allotments project making access to an allotment easier for more people.
Ben takes to Salisbury Plain to observe the Great Bustard, the world's largest flying bird, in the company of David Waters from the Great Bustard Group.
Nick speaks to Sally and Paul, 2 Bath residents who are climate activists involved in the Just Stop Oil campaign (Just Stop Oil web link) that recently targeted oil distribution centres in the South East and Midlands. They share what motivates them to participate in this controversial action.
Jo also talks to Professor Tim Mays from Bath University about his work on hydrogen fuels. A crucial new source of power as we look to move away from a dependency on fossil fuels
April 22 - EM Show 7 (April 22) listen again link
As well as the usual "fun facts" this show includes an interview from Joanna with Lesley Bees a member of the Larkhall Festival Committee talking about plans for this year's Festival
Ben's nature slot is about house martins, birds that are nesting all over our community at this time of year
Nick speaks to Rob Bryher and Kate Atkinson about the ongoing Car Free Project in Bristol. Kate was a participant in the recent trial and Rob also talks about how people in the greater Bath area could get involved in the next stage of the project.
Jo also talks to Chris Nicholson from the No Place For Litter community group about the groups work in and around Bath
March 22 - EM Show 6 (March 22) listen again link
This show includes an interview with Prof Lorraine Whitmarsh from Bath University about her role as an author of the recent UN Intergovernmental Panel on Climate Change (IPCC) report Impacts, Adaptations and Vulnerability. A crucial piece of work in our evolving response to the Climate emergency
Ben's nature piece concentrates on the signs of spring whilst Jo speaks to Dr Gemma Clucas, a scientists based at Cornell University in the US, who is working with colleagues at Bath University to understand how climate change is effecting the penguin population of Antarctica
There's also a fascinating interview with Guy Wilcox, a 19 year old Bath resident, talking about his role as part of the Charlcombe Lane Toad Rescue Project
Feb 22 - EM Show 5 (Feb 22) listen again link
The topic for this months show is habitats and homes;
Ben hosts a visit to his garden where he explains how a pond and living roof provide homes for a huge range of flora and wildlife
Jo speaks with Funda Kemel, a Bath based architect, about how we can make our homes more energy efficient
Following the outcome of the public enquiry into Bristol Airport expansion Nick speaks again to North Somerset Councillor Bridget Petty about next steps for the Council
Jo, Ben and Nick come together for a conversation with Mark Ellerby (Bath based Architect) and Will Kirkman (MD of Eco-merchant in Swindon) about the growing interest in sustainable building and home improvement
Jan 22 - EM Show (Jan 22) listen again link
Dec 21 - EM Show 3 (Dec 21) listen again link
Nov 21 - EM Show 2 (Nov 21) listen again link
Oct 21 - EM Show 1 (Oct 21) listen again link